Finally, Melbourne's property market has some light at the end of the tunnel as Victoria cautiously charts its course out of lockdown.
It's by no means going to make for a normal spring market, but it does provide us with some hope, and in the immortal words of the movie classic, The Shawshank Redemption, "hope is a good thing, maybe the best of things, and no good thing ever dies."
We've been hoping for eased restrictions to enable greater market activity for a considerable time now, and that's set to come with the advent of one-on-one inspections once first dose vaccination levels hit 70 per cent this month.
That's a significant development for the market, which has been curtailed due to lack of access to properties under the current protracted lockdown.
While there's certainly been some buyers, who have been prepared to purchase properties sight unseen, they've definitely been few and far between. Some agents and vendors have been prepared to take a gamble and provide access for property inspections under the cover of darkness, despite the health and legal risks. But the majority of the market has been waiting for official permission.
Lockdown market impacts
Unfortunately, it's a predicament Melburnians are not completely unaccustomed to, with last year's Spring market also suffering a similar fate under lockdowns – untimely given it's traditionally the busiest auction period of the year.
To provide some perspective, CoreLogic figures show a substantial reduction in new listings being added to the market over the course of the lockdowns through the second half of 2020, at a time when new listings would usually be rising consistently. At its lowest count, just 1,411 listings were added to the market for sale in the four weeks to September 6th, which was 80.7 per cent below the previous five-year average.
Meanwhile in 2021, data from REA Group showed that seven weeks after the start of the fifth lockdown in Victoria, property sales plummeted by 45 per cent.
The graph below provides a revealing insight into the market impact of lockdowns in the two years post pandemic, and then compared to the pre-COVID year of 2019.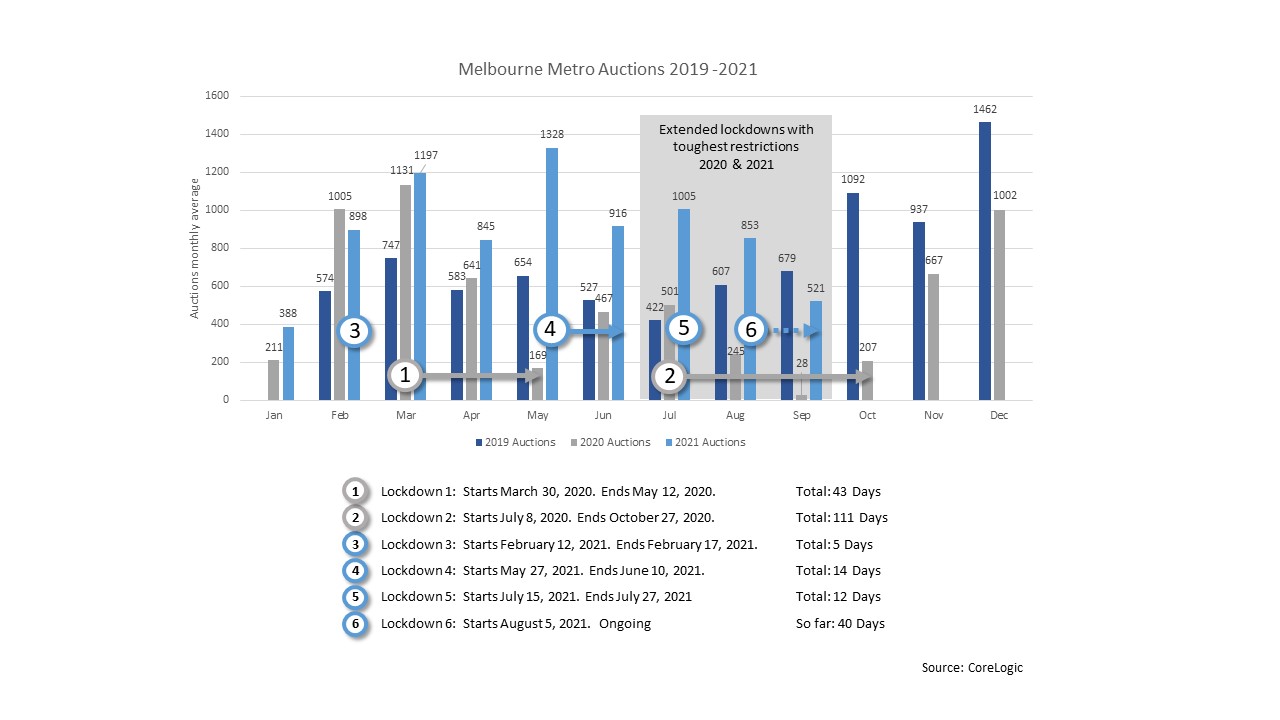 Pent up supply and demand
However, on a more positive note, the resilience of Melbourne's property market, which has bounded back strongly in the periods between lockdowns, should give buyers and vendors alike real confidence in the strong underlying supply and demand ready to come forth once restrictions ease.
When Melbourne was lockdown free, REIV figures for March this year show the median price for a house in metropolitan Melbourne jumped by 8.8 per cent, to $1,004,500 – the biggest quarterly increase in the median house price since December 2009, which was amid the global financial crisis (GFC) recovery.
Further into the year, we've seen a surge in Autumn auction numbers, as well as an uncharastically high number of homes going under the hammer throughout the usually quiet Winter months
Outlook for remainder of 2021
So how are we sitting for the rest of the year? As mentioned, the State Government has flagged some minor easing of restrictions once 70 per cent of Victorians above the age of 16 have been inoculated with one vaccine dose, which encouragingly is now likely to happen before the initial earmarked date of September 23.
Private inspections 
This is where our collective hope as an industry has finally come to fruition. At this point, private one-on-one inspections will be permitted for unoccupied properties, but auctions will need to remain online. This brings Melbourne into line with the current operating conditions in Sydney, which has been able to sustain a promising level of market activity in the face of the ongoing COVID-19 predicament.
There's no doubt this will entice many buyers and vendors alike back into the market, although some will still choose to hold off until more normalised conditions return, particularly those in a discretionary position, who don't have a transaction deadline.
Campaign timeframes 
Those preparing to buy or sell in the coming months however, will definitely need to adapt to the more limited operating conditions.
Timeframes are likely to be condensed compared to normal Spring selling seasons. Certainly don't always count on seeing four week campaigns for auctions or expressions of interest.
Most current properties will have now been online for a considerable period of time, and received enough exposure – with buyers aware and ready to move quickly once property access is permitted. That means a couple of weeks for in-person inspections, contract checks, building inspections and general due diligence will be more than enough time for most.
Midweek online auctions 
While auctions will remain online for the foreseeable future, there'll be some differences on that front too. Expect many to be conducted on weekdays – most likely, late afternoon and evenings. There's unlikely to be any major benefit to holding a Saturday auction online. The market is going to be very labour intensive particularly for sales agents. So they will aim to keep the weekends free for inspections, as that's when buyers will have a degree of flexibility.
Expressions of interest
We're also likely to see greater numbers of expression of interest campaigns compared to a typical season, across different price brackets. This allows a greater amount of flexibility, as the process can be brought forward, pushed back and even converted into an online auction, if that's what's deemed suitable by the vendor and agent.
Public and school holidays
This time of year typically contains an array of public holidays and events, as well as school holidays that can impact the timing surrounding an auction campaign. That's unlikely to be as significant a factor as it usually would.
For example, the AFL Grand Final weekend is usually relatively dormant in regards to inspections and auctions. However, given the pent up supply and demand built up during lockdowns, many eager buyers and sellers are likely to forgo traditions and capitalise on any newfound transaction opportunities. Furthermore, with the Grand Final taking place early evening Melbourne time this year, inspections and online auctions are unlikely to clash regardless.
A Christmas selling period
Given the restricted market activity across much of the last half of this year, it's likely we'll see a higher level of transactions run-up closer to Christmas.
Often we see a significant drop off in market activity when the calendar flicks over into December, as people's attention turns towards the festive season and summer holidays.
However, due to the condensed nature of the market this year, vendors and buyers will be transacting much later into the month, and we may even see twilight auctions right up until the 18th, 19th and 20th of December this year.
A vendor perspective  
Vendors must assess a range of factors when charting their course through the period ahead.
Firstly, it's important to determine how far progressed they are down the sales path.
Is there a lot more work that needs to be completed to the property before taking it to market? And how much time is that work going to take?
Will that leave enough time to then sell the property, and have a successful campaign this year? This includes engaging a stylist, having photos taken and enlisting a real estate agent.
As stated, the slated private inspections under the eased restrictions will only be permitted within unoccupied properties, meaning vendors will need the time and means to organise another place to live during the period of inspections.
Another factor to consider is whether the market will play out more favourably for a particular property type next year. However, if vendors do decide to sell this year, choosing the date therein is of considerable importance.
October is quite often a period of high market supply and this year will be no exception, given the condensed nature of the market. This means increased competition to attract buyers. On the other hand, pushing back the campaign into the traditionally quieter, December period, means if the desired price isn't achieved, the property may go a little stale over the Christmas and New Year period when demand will reduce dramatically.
While, as mentioned, holidays and events in the coming months will have less market impact than in normal times, they may still be a factor, particularly among particular buyer demographics. This should be considered when deciding on the timing of the sales campaign.
The method of sale is another consideration. Is an online auction the optimal option, or would an expression of interest or private sale better suit the peculiarities of this Spring's selling season?
A buyer perspective  
As always, but particularly in this contracted market, preparation is going to be key. Due to the labour intensive market, buyers will need to book in their inspections with agents as soon as possible. Once a property of interest hits the market, buyers should make arrangements to view the dwelling at the first available opportunity.
That's particularly the case if buyers plan to view the property more than once, which may be the case if partners or family members need to be involved in the process.
Buyers should keep in close and regular contact with the selling agent. Negotiations are likely to move quickly once restrictions ease, as there'll be some fairly anxious vendors who may be prepared to pull the trigger if a very organised buyer puts forward an acceptable and compelling offer in the early days of a campaign.
Buyers that have good contact with agents, are likely to be privy to these early opportunities.
This includes pre-campaign inspections, which are likely to be more prevalent for the remainder of the year, given increased numbers of anxious vendors, who may prefer a prompt sale as opposed to a longer campaign.
Buyers should also conduct as much due diligence as possible remotely and online ahead of the inspection. That enables a purchaser to move quickly towards an offer once they have inspected a suitable property. That includes having building inspectors and solicitors lined up and ready to be deployed to fast track the process.
Those on the hunt for properties will need to be clear on the procedures and regulations that must be followed under the revised inspection restrictions. That means extra organisation, booking ahead, and most likely a shorter amount of time to walk through and view the property.
Buyers must be mindful of a climate of desperation that may be present when the market does open, and resist sub-par purchasing decisions that may be influenced by fear of missing out. (FOMO)
However, on the flip side it's unwise to expect market demand and prices to dip next year, as that's unlikely to be the case given the longer term trends at play.
Buyers will need to be well informed and prepared to pay solid prices that represent fair value, but cool headed enough to tap-out of frenzied bidding wars at inflated prices.
Take home message
Let's hope this year's Spring selling period will be the last heavily impacted by COVID-19; and that 2020 and 2021 become anomalies and outliers when included in the historical market graphs in the years ahead.
Despite the disruption caused by the pandemic and resulting lockdowns, Melbourne's property market is well positioned to bounce back strongly in the year ahead as we learn to live with COVID-19.
Meanwhile, Melbourne now has a tentative roadmap to bring us out of 2021 and into the New Year.
While the eased restrictions certainly won't result in a typical Spring market, they do provide informed, prepared and agile property investors with an edge, in what is likely to be a hotly contested arena in the months ahead.