Over the last two years, we've seen stellar market growth across Australia's property sector. 
However, towards the end of 2021, and certainly into this year, the trend has started to change a little, particularly in Melbourne.
As is typically the case, segments of the media have lurched from one extreme to another. 
Last year's narrative was the unaffordability of property, with a focus on the high clearance rates and surging growth rates. However in more recent weeks, that sentiment is beginning to reverse, with many claiming we are now moving into a buyer's market.
While we are not seeing the same surging prices and demand of last year, we are definitely not in a buyer's market.
A more apt description is that we are starting to move back into a balanced market.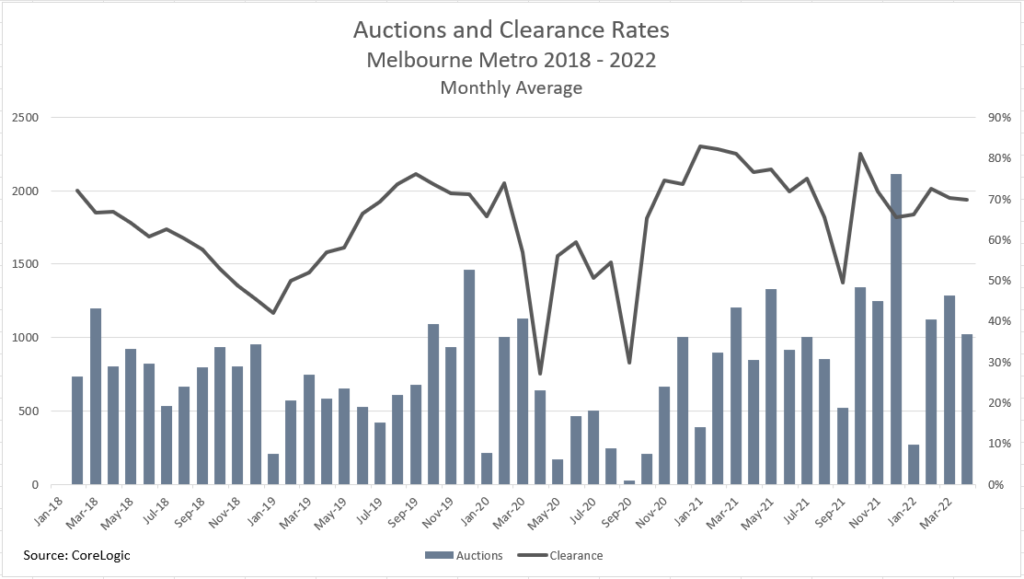 A good way to examine this trend is to look at auction numbers, combined with clearance rates – looking at either independently can tend to skew results.
If we look at auction supply levels over the last several years, as far back as early 2019, some patterns start to emerge. 
We obviously need to account for COVID-19 and resultant lockdowns, which artificially halted market activity throughout periods of 2020 and 2021.
Thus it is instructive to look at the first quarters for 2019, 2020, 2021 and 2022, which comparatively had little interruption to market activity.
In the first quarter for 2019 auction numbers averaged below 1000 per weekend. That's compared to 2020, which was around 1100 per weekend, while 2021 sat around 1200.
This year there has been an average of around 1300 per weekend, which demonstrates strong market activity for the 2022 first quarter.
Examining clearance rates for the same period helps provide greater context from a demand side. 
2019 was in a more balanced state – perhaps even a buyer's market – where the clearance rate was below 60 per cent.
In 2020 we were hovering around 70 per cent. By 2021 we were pushing right up into the 80 per cent mark. This year the clearance rate has been sitting around the high 60s and low 70s. These figures indicate that we are still in a comparatively strong market. 
Over the years we've tended to use a rule of thumb, where if the clearance rate is above 70 per cent, we would consider that to be a seller's market. If it's sitting in the 60 to 70 per cent range, it's typically a fairly balanced market. While if it's sub 60 per cent, you tend to find that you're in a buyer's market. 
So as it stands, with clearance rates currently sitting in the high 60s and low 70s, we are moving into a balanced market. 
While the market is certainly starting to cool after the surging demand and prices of 2021, we are by no means moving into a buyer's market at the present time, in fact some weekends are still favouring the seller.
This recalibration of the market can actually be viewed as a positive after two years of runaway growth.
Pandemic growth factors
It's useful to understand the driving factors behind the 2020/21 growth in order to provide perspective on the current market trends.
We entered the pandemic in March 2020, off the back of some fairly strong growth through the second half of 2019.
That meant that whenever the city was out of lockdown, the market ran strong. This was accentuated with pent up demand through lockdowns, which restricted transactions, and left buyers eager to make a purchase once restrictions were lifted. The strong demand was further buoyed by the record low interest rates.
The lockdowns saw people spending large amounts of time at home, thus placing a greater focus on living arrangements, with many looking to upgrade as a result. 
This was paired with increased savings, as there was reduced discretionary spending opportunities during lockdowns, which led to greater financial resources diverted to peoples' homes.
Factors rebalancing the market
However, those growth levels were never going to be sustainable over the long term.
Pent up demand caused by lockdowns has now subsided, while interest rates are on their way up.
The Federal and State elections this year also create a level of uncertainty. While property isn't a major policy focus this time around, elections typically subdue market activity until people see and understand the ramifications of the result.
At the same time, broader economic issues, such as rising inflation and the war in Ukraine, are also dragging down on the market.
Benefits of a rebalanced market
The rebalancing of the market does have a number of benefits, particularly for buyers. 
It creates more normalcy than what we've perhaps been experiencing over the past few years, and provides greater opportunities for buyers who have been locked out of the runaway market.
Underquoting is far less of an issue now. Vendors expectations are typically closer to the end sale price. This can be compared to 2020/2021, where the eventual sale price far exceeded expectations.
There is also far less fear of missing out (FOMO) amongst buyers, who are far more content to buy a property if it's at the right price point and if it meets their requirements. If they feel vendor expectations are too high, then they are more than happy to sit back and wait, as opposed to last year where there was a level of desperation.
Advice for vendors
If you're looking at selling in the period ahead, don't rush due to an unwarranted fear that demand is dwindling.
Strong demand and robust competition remain for good quality properties.
Don't get caught listening to media commentators who are predicting significant downturns and dramatic changes in the market, as it's not likely to happen. 
However, when you do decide to proceed with the campaign, ensure you avoid as many disruptions as possible.
This means avoiding election dates, school holidays and public holidays, which can often divert buyers attention away from the market.
It's also important to understand your target market. Ensure your campaign and method of sale caters to likely buyers, and gives them every opportunity to compete and purchase your property – whether that's through auction, expression of interest or private sale.
It's important to maintain realistic expectations in the current market. The runaway prices seen over the last two years are now less common. 
That doesn't mean you should accept prices below value. However, if you don't have a conservative mindset when going into the selling process, you might find that your property sits unsold for an extended period.
Advice for buyers
Don't expect to pick up a property at a bargain price. Good property will still draw robust competition. If you're going in with a bargain hunting attitude, you'll find that you'll continually miss out on properties.
Prepare for interest rate rises. You need to factor them into your calculations and make sure you can incorporate some changes to monthly mortgage repayments into the future.
Having finances prepared and ready to deploy when the right opportunity presents itself, gives you greater flexibility on terms and conditions with vendors – strengthening the negotiating position and perhaps providing more leverage on price.
Bear in mind, the market is unlikely to run away like it did in 2021, so FOMO should be far less of an issue.
Buyers can afford to be a little more patient in the current market and not risk the market running away from them as it did last year, where a home's value could increase by five per cent in a matter of months.
As always, asset selection is still absolutely key. Buying the right property will outlast any market trends, ensuring strong capital growth for the years to come.
That remains the case in a rising, falling and the current rebalancing market.